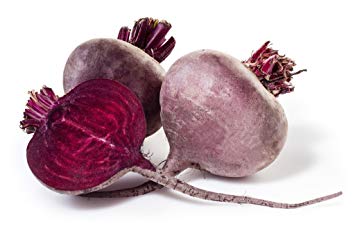 What to do with Red Beets?
Beets are a very diverse and nutritious root vegetable. They are packed full of nutrients including fiber, folate & Vitamin C. Due to their pigment and nitrates, they are known to lower blood pressure and aid in athletic performance. These delicious bulbous vegetables are not chosen as often as they should be so I thought I would share a few delicious things to do with them.
No matter what you decide to do with your beets you will need to cook them so here are some simple instructions for that:
#1: Use them as a salad topper on your favorite salad. To do this, you have to bake them first.
* Preheat oven to 425 degrees.
* Cut slits in the beets and place on a baking sheet.
* Bake for 1 hour or until tender.
* Let cool until touchable and peel the beet.
#2: Beet french fries
* Preheat oven to 425 degrees.
* Peel and cut the beets into 1/2″ strips.
* Season with olive oil and seasoning of your choice.
* Spread onto parchment paper on a cookie sheet and bake 20-30 minutes until tender. Turn them once 1/2 way through the cooking.
* Serve with your favorite sauce.
#3: Pickled Beets
* Scrub 4 beets and cut the tops down about 1″.
* Place in a Dutch oven and cover with water, bringing it to a boil.
* Reduce heat, simmer covered for 25-30 minutes.
* Drain the water and let them cool.
* Once cool, peel and slice them to your desired shape and size.
* In a small saucepan combine: 1/2 cup vinegar, 1/4 cup sugar, 1 tsp cloves, 1 tsp all spice, 1/4 tsp salt.
* Bring to a boil for 5 minutes.
* Pour over the beets in a sealable container and refrigerate for at least 1 hour before serving.
#4 Jessica Seinfeld's Chocolate Cake (Cupcakes) with Sneaky Beets – My kids love these and have no idea they are eating beets!  https://www.sun-sentinel.com/news/fl-xpm-2008-04-17-0804150357-story.html